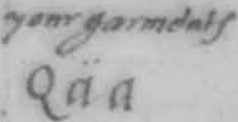 Translations
Edit
Page 116
In this entry (LV-002), the letters each have a space between them (like 'Q A A'), however in at least Call 1 given near the end of the book it is used without spaces between the letters (like 'Qaa').
In GMICALZOMA, Vinci gives 'qa an' as an alternate spelling.
Qaada, qadah = Creator

qaan, qaaom,qaaon = in your creation
Root is obviously Q A A, pronounced qua-a
Ad blocker interference detected!
Wikia is a free-to-use site that makes money from advertising. We have a modified experience for viewers using ad blockers

Wikia is not accessible if you've made further modifications. Remove the custom ad blocker rule(s) and the page will load as expected.